THE 10 X 15 INCH OVERSIZED BOOKS ARE SOLD OUT!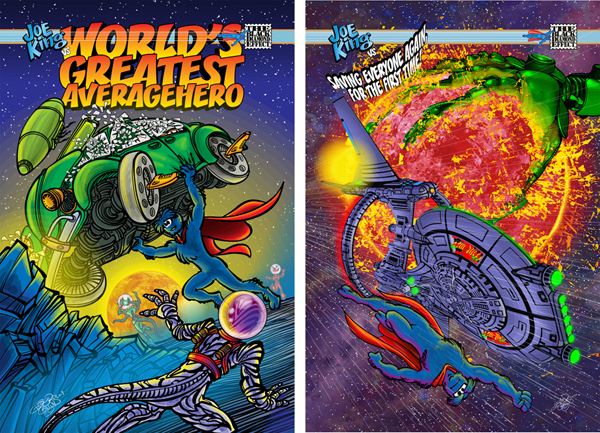 Thank you to EVERYONE
who supported JOE KING Book 2 Campaign.
A little bit about the books
If you like SuperHeroes, Star Trek, Star Wars, Doctor Who, Galaxina,
Hitch Hikers Guide to the Galaxy, Guardians of the Galaxy, Red Dwarf and Pizza...
plus multiple narratives which include visual easter eggs... These are the books for you.
Book 1:
The only way for Joe and the crew of the Ladystar to stop a growing evil from
taking over the universe, is to prevent the Dinosaurs from going extinct.
Created, Written and Illustrated by: George Peter Gatsis
Softcover - 10x15 inches - full color - 120 pages
ISBN: 978-1-895462-33-3
Book 2:
Joe ordered a deluxe Pizza as the Earth is taken across the universe right in the path of a SuperNova!
The crew of the Ladystar has 120 minutes to save the Earth before the pizza gets delivered!
Created, Written and Illustrated by: George Peter Gatsis
Softcover - 10x15 inches - full color - 120 pages
ISBN: 978-1-895462-14-2